Wonder what are the USB devices that currently installed on your computer? Now there is a freeware utility, named as USBDeview which can retrieves the detailed information for all devices connected through USB host port. It is not only listing all the device name, but also the description of the device, device type, connection status, safe to unplug, serial number, created date, vendor id, product id and etc.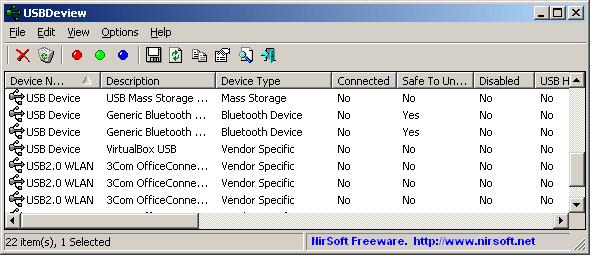 USBDeview is a tiny utility which doesn't require any installation. Just execute the exe file and it will display all USB devices details information currently installed on the computer. Besides providing the detailed information, this utility also allows you to uninstall USB devices and disconnect USB devices that currently connected to your computer. USBDeview can be used to retrieve the details information on remote computer as well, with condition that must have administrator login.
USBDeview is compatible to run on Windows 2000/XP/2003/Vista, but not on Windows 98/ME. To disable/enable USB devices in Windows Vista with UAC turned on, you must run USBDeview as administrator, right click on the executable file, then choose "Run As Administrator".