PDF is a file format famous for its stability and compact size that has been widely used in both office and home environment. Typically in order to generate a PDF document, users need to have professional licensed editing software such as Framemaker for enterprise use. However, if you are home users and don't have extra budget to spend on the tool, you may want to try this simple tool. Named as doPDF, it can help you to convert any files into PDF format so that you still can enjoy benefits of PDF format.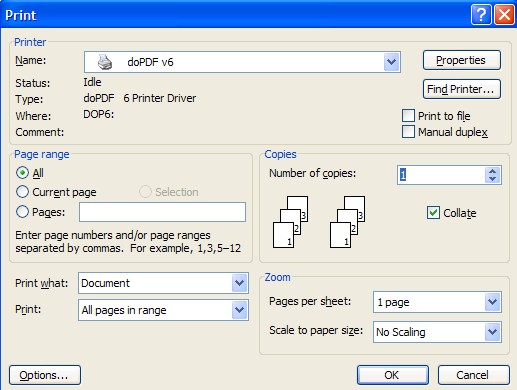 The software utility is very simple to be used. Just download and install it into your Windows PC and you are ready to go. For any Microsoft documents that you intend to convert, go to File -> Print and you will notice a new 'printer' with the name of 'doPDF v6'. Simply click 'OK' and it will convert your whole documents to PDF format instantly and store it in your selected folder.
The utility is especially useful whenever there is a need to share a document, presentation foil but with editing restriction so that none of the recipients can alter your original contents easily. If you think this is useful, just go here to download it for immediate use.