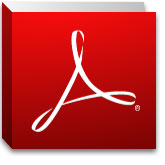 Adobe Reader which was previously known as Adobe Acrobat Reader is the official PDF viewer application from the PDF format developer, which also builds Adobe Acrobat as a tool to create, author and edit PDF files, the de-factor standard in electronic documents. Apple has released a new version of Adobe Acrobat and Adobe Reader version 9.4 in order to fix severe critical vulnerabilities which exist in Adobe Acrobat and Adobe Reader version 9.3.4 or earlier.

Adobe recommends users of Adobe Reader and Adobe Acrobat 9.3.4 and earlier versions for Windows, Macintosh and Unix to update to Adobe Reader 9.4. For Adobe Reader users on Windows and Macintosh who cannot update to Adobe Reader 9.4 and are currently using Adobe Acrobat and Adobe Reader 8.2.4 or earlier, an updated Adobe Reader 8.2.5 is also available, which are also recommended upgrade. More information on Adobe Acrobat products release notes.
Adobe Reader has the following features:
View, search, digitally sign, verify, print, and collaborate on Adobe PDF files, including PDF Portfolios and PDF maps
Author, store, and share documents, and share your screen, using Acrobat.com services
Experience richer content and greater interactivity with native support for Adobe Flash technology
Review documents using familiar commenting tools such as sticky notes, highlighting, lines, shapes, and stamps (features enabled by Acrobat Pro or Acrobat Pro Extended)
Digitally sign PDF documents (Feature enabled by Acrobat Pro or Acrobat Pro Extended)
Both Adobe Reader and Adobe Acrobat is scheduled to run automatic update checks on regular interval. Users who can wait for the scheduled upgrade to take place can initiate a manual upgrade process by clicking on Help -> Check for Updates from within the application itself.
In addition to visit Get Adobe Reader web page to download Adobe Reader 9.4 and/or 8.2.5 for Windows, Mac OS X, Linux and Solaris UNIX, users who want the standalone full version offline setup installer for Adobe Reader 9.4 for Windows and Mac OS X can also download using the following official direct download links.
Adobe Reader 9.4 for Windows Direct Download Links
English: AdbeRdr940_en_US.exe
Arabic (version 9.3): AdbeRdr930_ar_AE.exe
Basque: AdbeRdr940_eu_ES.exe
Bulgarian: AdbeRdr940_bg_BG.exe
Chinese (Simplified): AdbeRdr940_zh_CN.exe
Chinese (Traditional): AdbeRdr940_zh_TW.exe
Catalan: AdbeRdr940_ca_ES.exe
Croatian: AdbeRdr940_hr_HR.exe
Czech: AdbeRdr940_cs_CZ.exe
Danish: AdbeRdr940_da_DK.exe
Dutch: AdbeRdr940_nl_NL.exe
Estonian: AdbeRdr940_et_EE.exe
Finnish: AdbeRdr940_fi_FI.exe
French: AdbeRdr940_fr_FR.exe
German: AdbeRdr940_de_DE.exe
Greek (version 9.3): AdbeRdr930_el_GR.exe
Hebrew (version 9.3): AdbeRdr930_he_IL.exe
Hungarian: AdbeRdr940_hu_HU.exe
Italian: AdbeRdr940_it_IT.exe
Japanese: AdbeRdr940_ja_JP.exe
Korean: AdbeRdr940_ko_KR.exe
Latvian: AdbeRdr940_lv_LV.exe
Lithuanian: AdbeRdr940_lt_LT.exe
Norwegian: AdbeRdr940_nb_NO.exe
Polish: AdbeRdr940_pl_PL.exe
Portuguese: AdbeRdr940_pt_BR.exe
Romanian: AdbeRdr940_ro_RO.exe
Russian: AdbeRdr940_ru_RU.exe
Slovakian: AdbeRdr940_sk_SK.exe
Slovenian: AdbeRdr940_sl_SI.exe
Spanish: AdbeRdr940_es_ES.exe
Swedish: AdbeRdr940_sv_SE.exe
Turkish: AdbeRdr940_tr_TR.exe
Ukrainian: AdbeRdr940_uk_UA.exe
Adobe Reader 9.4 for Mac OS X (Intel) Direct Download Links
English: AdbeRdr940_en_US_i386.pkg.zip
Chinese (Simplified): AdbeRdr940_zh_CN_i386.pkg.zip
Chinese (Traditional): AdbeRdr940_zh_TW_i386.pkg.zip
Czech: AdbeRdr940_cs_CZ_i386.pkg.zip
Danish: AdbeRdr940_da_DK_i386.pkg.zip
Dutch: AdbeRdr940_nl_NL_i386.pkg.zip
Finnish: AdbeRdr940_fi_FI_i386.pkg.zip
French: AdbeRdr940_fr_FR_i386.pkg.zip
German: AdbeRdr940_de_DE_i386.pkg.zip
Greek (version 9.3): AdbeRdr930_el_GR_i386.pkg.zip
Hungarian: AdbeRdr940_hu_HU_i386.pkg.zip
Italian: AdbeRdr940_it_IT_i386.pkg.zip
Japanese: AdbeRdr940_ja_JP_i386.pkg.zip
Korean: AdbeRdr940_ko_KR_i386.pkg.zip
Norwegian: AdbeRdr940_nb_NO_i386.pkg.zip
Polish: AdbeRdr940_pl_PL_i386.pkg.zip
Portuguese: AdbeRdr940_pt_BR_i386.pkg.zip
Romanian: AdbeRdr940_ro_RO_i386.pkg.zip
Russian: AdbeRdr940_ru_RU_i386.pkg.zip
Spanish: AdbeRdr940_es_ES_i386.pkg.zip
Swedish: AdbeRdr940_sv_SE_i386.pkg.zip
Turkish: AdbeRdr940_tr_TR_i386.pkg.zip
Ukrainian: AdbeRdr940_uk_UA_i386.pkg.zip
Adobe Reader 9.4 for Mac OS X (PowerPC) Direct Download Links
English: AdbeRdr940_en_US_ppc.pkg.zip
Chinese (Simplified): AdbeRdr940_zh_CN_ppc.pkg.zip
Chinese (Traditional): AdbeRdr940_zh_TW_ppc.pkg.zip
Czech: AdbeRdr940_cs_CZ_ppc.pkg.zip
Danish: AdbeRdr940_da_DK_ppc.pkg.zip
Dutch: AdbeRdr940_nl_NL_ppc.pkg.zip
Finnish: AdbeRdr940_fi_FI_ppc.pkg.zip
French: AdbeRdr940_fr_FR_ppc.pkg.zip
German: AdbeRdr940_de_DE_ppc.pkg.zip
Greek (version 9.3): AdbeRdr930_el_GR_ppc.pkg.zip
Hungarian: AdbeRdr940_hu_HU_ppc.pkg.zip
Italian: AdbeRdr940_it_IT_ppc.pkg.zip
Japanese: AdbeRdr940_ja_JP_ppc.pkg.zip
Korean: AdbeRdr940_ko_KR_ppc.pkg.zip
Norwegian: AdbeRdr940_nb_NO_ppc.pkg.zip
Polish: AdbeRdr940_pl_PL_ppc.pkg.zip
Portuguese: AdbeRdr940_pt_BR_ppc.pkg.zip
Romanian: AdbeRdr940_ro_RO_ppc.pkg.zip
Russian: AdbeRdr940_ru_RU_ppc.pkg.zip
Spanish: AdbeRdr940_es_ES_ppc.pkg.zip
Swedish: AdbeRdr940_sv_SE_ppc.pkg.zip
Turkish: AdbeRdr940_tr_TR_ppc.pkg.zip
Ukrainian: AdbeRdr940_uk_UA_ppc.pkg.zip
The updates for commercial Adobe Acrobat family of products can be downloaded here.
Update: Adobe PDF Reader X 10.0.0