Shortcut keys offer users an easier and faster way to navigate computer software applications without the need to refer to the menu again. Users who are well versed with the shortcut keys can speed up their work significantly. There is a large number of shortcut keys which are customized for various software programs. Unless these shortcut keys are frequently used, users might have a tough time to remember most of them. As one of the leading software designers, Adobe addresses users' concern by introducing an amazing tool, Adobe Shortcut App, to facilitate users to quick find and search for shortcuts they need when using Adobe creative suite software applications.

Adobe Shortcut App is a free tool offered by Adobe to assist Adobe users to browse and search for useful shortcut keys which can be used together with their Adobe Creative Suite. This AIR App features a simple interface with a list of Adobe software applications: Adobe Illustrator, Adobe Photoshop, Adobe In Design, Adobe Flash, Adobe Dreamweaver, Adobe Southbooth, Adobe Fireworks, Adobe Contribute, Adobe After Effects, Adobe Premiere Pro and Adobe Encore. To find the respective shortcut keys, users just need to click on the application and the list of shortcuts will be shown.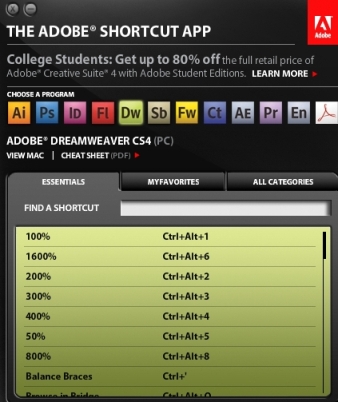 Adobe Shortcut App allows users to save their most frequently used or favorite shortcut keys into a list for easy future reference.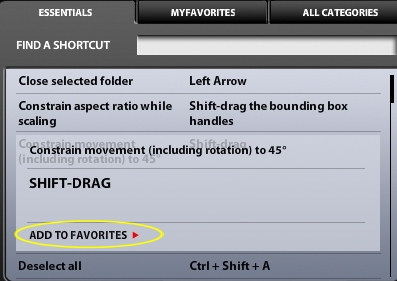 Users can also click on to the link that links to cheat sheets for all Adobe applications in pdf format for printing of to be saved in the hard drive.