There are various laptop battery management tools such as BatteryCare, Battery4Life, LaptopBattery, BatteryBar, Vista Battery Saver, Imtec Battery Mark, PowerMeter, etc which are developed to assist laptop users to take care of their battery, prolong the battery life and make the battery last longer before the next charge. Aerofoil, an open-source utility, is another new battery management program which helps Windows Vista and Windows 7 users to prolong their battery running time.

Aerofail is a smart application which can automatically turn off or disable various high battery usage settings. For instance, when the laptop is running on battery, it will automatically turn off the Windows Aero Glass feature and switch to other low battery usage settings. The program indicator at the system tray will turn red when the laptop is running under low battery usage setting and it will turn green once the power supply is reconnected. Of course this program gives flexibility to users to opt for manual setting if they want to.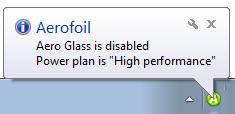 A summary of Aerofail's features includes:
Allow users manually disable Aero Glass
Optionally managing Aero Glass user interface
Optionally managing sound muting
Optionally managing YOUR chosen power plans
Optionally managing Windows Sidebar
Optionally showing a quick hibernate button
Changing icon colour to show your power type
Aerofoil can be downloaded free via the link here. This application is compatible with both Microsoft Windows Vista and Windows 7.