aTube Catcher, previously known as YouTube Catcher or You Tube Video Catcher, is a open source program utility that allows users to extract, download and save Flash based embedded video clips from various video sharing and hosting sites, including YouTube, XTube, Pornotube, Dailymotion, MySpace, Stage6, Google Video and Yahoo!, and then automatically convert and export to other file formats and encoding including MPG, AVI, MP4, 3GP, 3G2, WMV, PSP, MOV, and the flash video FLV itself, depending on your choice. (More FLV converters)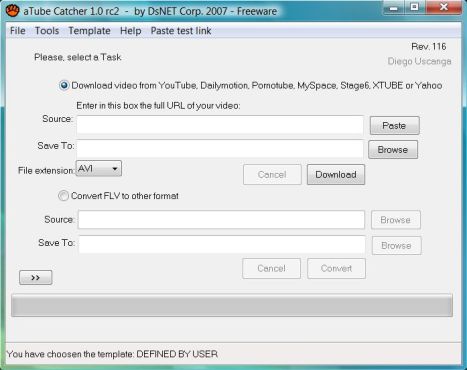 aTube Catcher also allows users to set the video quality they wanted for the downloaded video. Other video encoding options such as size, frame rate, aspect, video codec, file format, audio codec, audio sampling, quality, motion search and etc can be manually configured too. It also features templates, which enables users ability to encode to videos to standard formats to play in multimedia devices such as DVD, VCD, IPop , PSP (Sony PlayStation Portable) and etc. aTube Video Catcher also support user ID and password authentication requirement in Youtube for flagged videos and adult content video clips. Users can also convert any .flv Flash Video files that are on their computer to another format.
The main advantage of aTube You Tube Catcher is that it supports batch processing to download multiple videos from many links with embedded video clips at once without have to wait one to finish before starting another download. To use batch processing, just paste all the links to videos or web pages with embedded video for support sites to a plain text file. Although aTube YouTube Catcher currently only supports limited websites, but actually it can support all of them to download and encode, if you can supply the program with the direct download link to the video, which can be easily done with various tools available to identify the download URL for embedded video. The downloaded videos are been cached too to save bandwidth, and will monitor any links in clipboard memory and automatically paste into Source field.
Download aTube Catcher 1.0 RC2 revision 116 from SourceForge: YouTubeCatcher_1_0_rc2_r116_english_setup.msi
Latest and updated version of You Tube Video Catcher can be found here.
The setup package also comes with a FLV Player and Smart Media Hunter (SMH), which automatically search and hunt for favorite comics and fun videos form thousands of sites and download them for offline playback on local computer without Internet connection.
aTube Catcher or YouTube Video Catcher works on most Windows operating platform, including Windows 9X/NT/2000/XP/Vista. In Windows 98 or lower, you will have to update your DirectX component. In Windows Vista, to install aTube Catcher with the error messsage of "There is a problem with this Windows Installer package. A program required for this install to complete could not be run. Contact your support personnel or package vendor.", open an elevated privileged command prompt, and then manually start the setup by typing the installer name (YouTubeCatcher_1_0_rc2_r116_english_setup.msi), then hit Enter. Or you can also turn off UAC before running the installer setup.