Androsa FileProtector is a Windows application software that able to encrypt and protect any types of file with password. It uses the most advanced encryption algorithms, including AES – 256 bit / 192 bit / 128 bit, TripleDES 192 bit and DES 64 bit to do the encryption.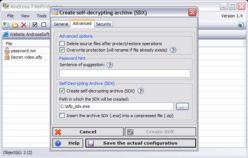 With Androsa FileProtector, the users can simply add the files by drag and drop from windows and then assign the password to protect the files. Once the password assigned, the selected files will then be encrypted and changes to .afp extension.
Key features of Androsa FileProtector as below:
Creating of self-decript archive.
Possibility to protect any type of file.
Compression of the files before protection, this reduce the size of files.
Integration with the context-menù of Windows.
Standard Support Languages : Italian, English. 
System for rapid translation in other languages.
Simple graphical user interface and functionality.
Wipe system for the secure deletion of files.
Statistics of protection in real time.
Possibility of management through system's bar (SysTray).
System of automatic updating.
High safety of the protected files.
Possibility to order and to group the files in the principal list.
Automatic system of protection against password "weak."
System of verification against the change or corruption of protected file.
System creation/elimination automatic of the backup copies.
Possibility to pause/resume the protection.
Sure writing feature against the accidental overwriting of the files.
Is a freeware and available to download in two version: Standard and portable USB.