To let more iPhone and iPad users to be able to play its popular games on their devices, Rovio has released a free version of Angry Birds games for iPhone and iPad users which are known as Angry Birds Free (for iPhone and iTouch) and Angry Birds HD Free (for iPad). The new version of Angry Birds games features challenging physics-based demolition gameplay and lots of replay value. The games has been designed with 12 levels which requires logic, skill and brute force to crush the enemy.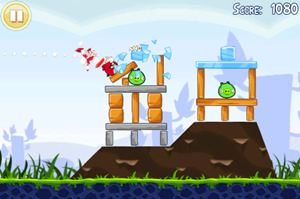 Key features of the Angry Birds Free and Angry Birds HD Free includes:
12 new levels which is not available in the full game (paid version).
4 mini episodes.
Supports Game center.
Leaderboards and achievements.
Those users who interested, can download Angry Birds Free for iPhone and iPod touch or Angry Birds HD Free for iPad from App Store. The Angry Birds Free works well in iPhone, iPod Touch and iPad with iOS 4 or later, while Angry Birds HD Free works well in iPad with iOS 3.2 or later.