Occasionally your PC system may become unresponsive due to too many running applications that fully occupy the available CPU cycle from normal processing. For a quick resolution, normally users will click on CTRL+ALT+DEL to bring up Task Manager to visualize which particular running programs are sucking so much CPU usage and eventually allows them to terminate the programs. But what if your system is too busy that even the Task Manager window doesn't seems to be responsive to your combination keys press? Here comes the usefulness of this software utility as your last resource before deciding to click restart button to reboot the whole system. Named as AntiFreeze, it helps users to temporarily suspend all the running programs, giving the chance for them to identify which specific programs are actually occupying so much CPU cycles that causing lock up and eventually terminate them with simple clicks.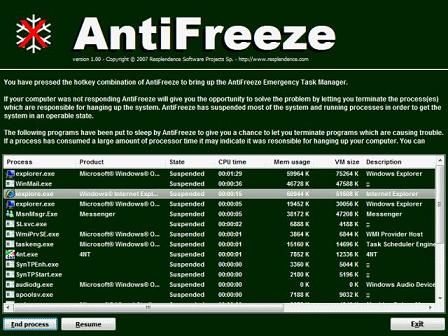 Antifreeze is very easy to be used. Once installed and launched, it will stay in the system tray in stand by mode and when there is a need to activate it in emergency condition, just click on the Hotkeys CTRL+ALT+HOME+WIN to bring it up. It looks quite similar to conventional task manager except with the ability to temporarily suspend all running applications before deciding to terminate them.
This software utility is quite useful and it could potentially save all your hassle when trying to recover all unsaved works in such an unfortunate situation. However, the software utility may not always usable especially when the system hang is due to some hardware device errors. Anyway, no harm to download one as a last rescue method, preventing you from rebooting your PC, with the only drawback of minimum amount of RAM usage occupied by this tiny software utility. AntiFreeze runs well in Windows OS (Operating Systems) such as XP, Server 2003 and even Vista and users can download it here at no cost.