Phoload is a new community site that designed to make it simple, easy, fun to discover and download free mobile games or applications. It has makes the search easily and straight to the application or games which suitable to your phone model.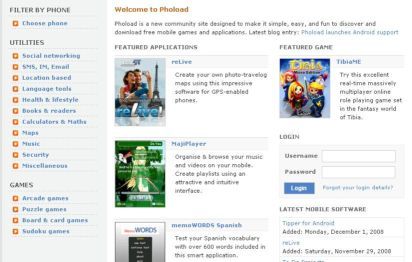 To downloading any application from Phoload is quite easy and simple. Phoload has the option to allow you to filter out the search by select your phone brand and model, then it will display the application or games that suite your phone. It also provide another alternative way to search where by you can browse through application categories and select the one that appeals to you. Each application has labeled whether it's free, a trial version, ad-supported, etc. While downloading an application, you can either download it to your phone directly or save it to your desktop.
Apart of the downloading, it also features the option to rate and review the application, which will help out the community. Phoload is not only target to end users but also for the developers those looking for a platform to release their application.