Are you looking for alternative painting program? You may try out Artweaver. Artweaver is a simple windows freeware program for creative painting which can simulate natural brush tools. Artweaver is design in clear program window that easily to learn and used. Currently, Artweaver is available in two languages, English and German language. It also can be translated into other languages by support of language files.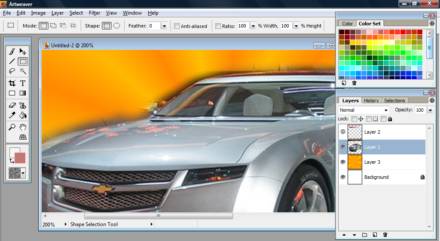 Beside that, Artweaver also included the following features:
 Support multiple types of digital brushes such as Chalk, charcoal, pencils and etc.
A variety settings option to customize the default brushes or to create new brushes.
support most common file formats like AWD (Artweaver), BMP, GIF, JPEG, PCX, TGA, TIFF, PNG and PSD.
Transparency and layers support.
Editable text layers.
Pen Tablet support for realistic feeling.
Effect filters like sharpen, blur, emboss and mosaic.
Standard image editing tools like gradient, crop, fill and selection tools.
Expandable by Plug-In modules (Artweaver Standard).
History function to undo/redo last editing steps.
Artweaver is freeware.
Because of Artweaver is a windows programs, so it able to execute in Windows 2000, Windows XP and Windows Vista.