Battery tends to deteriorate over time that may greatly impact true mobility of your laptop and if you wonder what type of benchmark tool that can be used to measure your battery life, here is a tiny utility that you can rely on. Named as Battery Eater, it is a free utility specifically designed for this purpose so that you can get an accurate estimation of your battery life before deciding if it is the right time for battery pack replacement.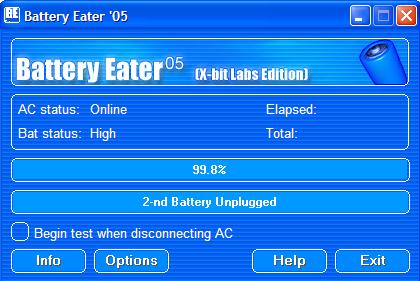 Once download, unzip and execute Battery Eater, users will be brought to a simple interface. Without complicated setup required and with assumption that your AC power is plugged into the wall power socket, just click on 'Begin test when disconnecting AC' first followed by AC power unplugged will execute the test instantly. By default, the benchmark will run in Classic mode whereby Open GL rendering involving both CPU and GPU will be fully utilized and the final result will indicate the maximum battery life capability just as when it is used to run full intensive applications on your laptop. Not to be limited by this that could be unrealistic for users that purely use their laptop for normal reading and office works, there are other modes available such as Reader's test, idle and plugin bench (configurable under 'Options' button) that will yield different results based on actual usage models. Good thing is, once the full tests are completed (exactly before the battery completely drained off), it will generate a report with date of the test being ran and will be stored in the Battery Eater installation folder. Look for a file named as discharge and in order to view it, just drag and drop the file into BEPro.exe (found in the same downloaded zip folder earlier) and you can view and compare it.
By now, you should have better feel of your battery performance using Battery Eater before deciding whether is the right time to upgrade to a new one.