Posted:
November 24, 2008
/
Under:
Operating Systems
/
By:
My Digital Life Editorial Team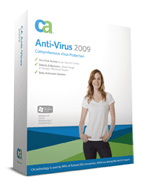 CA Anti-Virus 2009 is a security product that provides comprehensive protection against viruses, worms and Trojan horse programs. CA Anti-Virus 2009 features ability to scan emails automatically, fully automatic update daily, scheduled scanning, on-demand scanning, real-time scanning, advanced heuristic scanning, interactive virus detection messages, file quarantine, file exclusion list and archive scanning. CA AV 2009 is certified by Independent Testing organizations ICSA Labs, West Coast Labs, and Virus Bulletin as effective virus protector too.

CA Anti-Virus 2009 listed retail price is $39.99 for electronic download to provide 1 year of protection with virus signature update. For user who interested to use CA Anti-Virus 2009, now it's possible to get free 1 year free trial subscription of CA Anti-Virus 2009 with genuine legitimate license serial number or activation code, as part of promotion for Microsoft customers (who is not anyway?).
To grab the free serial key to activate CA Anti-Virus 2009 for free, submit your details at the following web page:
http://home3.ca.com/SubscriptCenter/MSTrialRegistration.aspx?cid=573
Fill in and submit the details including a valid email address and password (for a free CA account can be used to request support). A free activation code serial number will be sent to the email Inbox, together with download instruction.
Direct download link for CA Anti-Virus 2009 setup installer: av_en_32.exe