CCleaner 3.0 is the latest systems optimization, privacy and cleaning tool from Piriform. The cleaning tool has been designed to remove unused files from system that speed up the Windows processing, free up valuable hard disk space and cleans traces of online activities such as Internet history. Besides that, it also featured with register cleaner to locate and correct problems in the windows registry such as missing shared DLLs, unused file extensions and application path.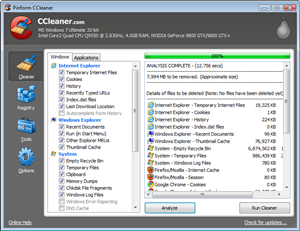 The below is the new features of CCleaner 3.0:
A new 64-bit native EXE designed specifically for 64-bit systems.
A new Drive Wiper tool screen under the Tools section, which allows the user to securely erase the contents or free space on a specified drive.
Improved support for Internet Explorer 9 and the Google Chrome browsers.
Added improved cleaning support for HTML5 database storage, allowing CCleaner to effectively manage the next generation of web applications.
Additional cleaning support for Microsoft Silverlight Isolated Storage.
Added three new environment variables (%SystemDirectory%, %SystemDirectory32%, and %SystemDirectory64%).
New application icon.
New intelligent cookie keeping feature.
The CCleaner 3.0 is available for free download.
Official direct download link of CCleaner 3.0: ccsetup300.exe.
Update: