Many users who want to leave their workstation or computer for a short while for some reasons might tend to lock-up their machine running in Windows OS by pressing the Windows logo Key + L (Windows+L). Although it is fast, convenient and totally locks up the computer from being used or disturbed by others, some users might still not be so satisfied and might not think it is an ideal solution because this Windows function will lock up the Windows and go straight to the main log on screen. This might not be useful especially for users who still want to keep an eye on some particular screen on the desktop screen. For instance, users do not want their jobs to be disturbed and hence lock the computer. But they might require somebody to monitor the progress or action going on. ClearLock, a lightweight utility, probably will offer a better solution if users are caught in this dilemma.

Compatible with Windows OS only, ClearLock allows users to lock their computer and prohibit access to it without a valid password. However, this little application can still allow users or others to look at or monitor what is going on in the screen. This tiny application will lock up the machine by adding a transparent layer so that users can continue to see the activities on the screen but disable any input or activities to the machine unless a proper password is entered.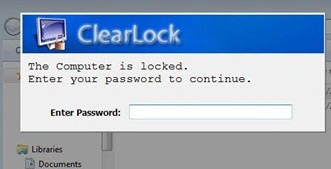 ClearLock is available in standalone executable version. Users just need to run it and set their password. Instead of Windows+L, users just need to click on the ClearLock icon to lock their computer as and when needed. Users can delete the .ini file created in the program folder in the event they want to reset the password. ClearLock can be downloaded via the link here. This application is meant to create a simple layer of protection to prevent unauthorized person from disturbing or accidentally changing users' work when they are not around. However, this application is not meant to be used as a Windows security system.