If you would like to find a standard way to compare performance between various PC systems, you may want to run this benchmarking tool. Named as CrystalMark, it is a comprehensive performance benchmarking tool that lets users test the full system including CPU, memory, hard disk drive as well as graphics tests such as GDI, D2D and OGL.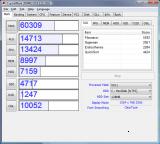 Once downloaded and installed the software utility, just unzip the folders and double click the CrystalMark09.exe to launch the test. On the main menu, there are various tests such as Mark, ALU, FPU, MEM, HDD and more being listed and clicking on it will run the test respectively with scores displayed next to the test buttons. Users can choose to run separate test individually or all and the total score will be summed up for comparison with other platforms. Good thing is, users can saved the results in text or HTML for easy extraction and compilation. That is not all, there are some useful information regarding the CPU, system BIOS, chipset, feature sets that can be displayed once users enter the respective tabs so that they can make apple to apple comparison across various platforms.
The tool is quit famous in Japan market and has been widely used by Japanese company to compare some new solutions from chipmakers before deciding a new design with it. It is compatible with 32-bit Windows OS such as 2000/2003/XP and even Vista OS and is downloadable at CrystalDew.