If you are heavily relied on Microsoft Outlook as a reminder for planned and uncompleted tasks, then this software utility may benefit you. Named as DeskTask, currently at version 1.0 SR1, it is a simple freeware that pulls scheduled Calendar and Tasks directly from Microsoft Outlook and display all of them (or selectively) on desktop screen for easy retrieval. That also means, users will no longer need to launch Microsoft Outlook to get those information. Instead, they can get it handy on their desktop screen, making the whole tasks planning process much more effective than usual.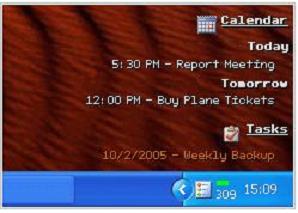 DeskTask is highly configurable with various settings that users can play around with. Users can choose to display both Calendar and Tasks at the same time, or only display tasks alone if they think the scheduled calendars are too compact to be put in tiny laptop screen. Besides, there is a way for users to set how many days ahead (up to 90 days) they intend to display all the calendars and tasks. All these are fully configured by only a single right click on tray icon. Just go to option and choose the respective tabs (General, Display, Calendar or Tasks) for proper configuration before use. Good thing here, users can click on any of the calendar and tasks' links on desktop to get quick access into Microsoft Outlook for further details when necessary.
DeskTask is a tiny application that only consumes 521kB and is compatible with any Windows OS ranging from Windows 98, ME, 2000 and XP. If you think it suits you (or you would like your boss to know how busy or how full your schedules are), just go and download one at DeskTask 1.0 SR1 for immediate use at no charge.