Need a desktop calendar to alert you on your wedding anniversary or to remember to buy your girl friend's favorite LV leather bag? Running on the similar standard iCalendar format used by Google Calendar, Microsoft Outlook, Apple iCal, etc, Rainlendar is another feature rich calendar application which can run on windows (Windows 2000/XP/Vista), Mac OS X and Linux operating system. Like other desktop calendars, Rainlendar features all the basic calendar functions such as scheduling events/tasks, and alerting you on the subject date.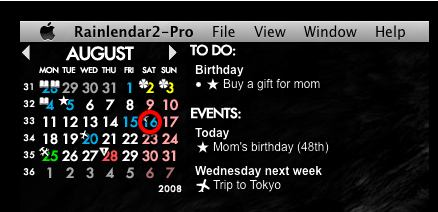 Besides platform independent, Rainlendar is easy to use, small in size and doesn't consume much of your system's resources. Since it is using the standard iCalendar format, Rainlendar can easily synchronize with other calendar applications. Users who use Rainlendar can easily transfer their data sets such as recorded events, important dates, new movie release dates, public holidays, tasks, to-do-list, etc between these applications. Rainlendar allows users to have multiple calendars at the same time. Users can use this feature to customize their respective calendars for different purposes, e.g. calendar for holidays, calendar for TV programs, etc.
Users can change the visual skins for their Rainlendar calendar as and when they want. Rainlendar can even allow users to create their own xml-format skin via its step-by-step guidance from the website's tutorial section. Other notable Rainlendar features include print events/event lists/calendar sheets which come with searching ability to search for particular events and tasks and are able to install/run in USB stick.
The Pro version for Rainlendar costs €9.95. However, users can still download and try it for free. The Pro version is fully functional even without the license except that events from network, Outlook and Google calendars will have string [Unregistered] in front of them.
Rainlendar has just released its latest Rainlendar 2.4 build 65. The following changes are found in this release:
– Fixed a crashing issue when the settings file was created the first time.
– Outlook plugin should work in Windows 2000 again.
– Added support for keywords. [days], [weeks], [months] and [years] will be replaced with the count to the current date.
– A fix for weekly recurring exception in the Outlook plugin.
– Windows were moved to the main monitor on redrawn. Fixed.
– Included luaFileSystem library which allows local file enumeration for the lua _script_s.
– The time written to the edit field wasn't used on Mac. Fixed.
– It wasn't possible to remove the category from a Google event. Fixed.
– Changed the way OK button works in the event/todo dialog. If the calendar is not defined it now shows a message box.
Rainlendar is a simple but great secretary to help you to manage your important appointments, events, things to do, etc. If you want to give it a try, you can download it via the link here:
Windows: Rainlendar-2.4.b65.zip
Linux TAR: Rainlendar-2.4.b65.tar.bz2
Linux DEB: rainlendar2-pro_2.4.b65-1_i386.deb
Mac OS X (Intel): Rainlendar-2.4.b65.dmg