If logging to YouTube video sharing site via your Internet Exploer, Safari or Firefox browser is still considered tedious and sluggish, DeskTube, the so called YouTube desktop application perhaps has the answer for you. DeskTube, like its name suggests, is a free desktop application which combines Desktop and YouTube functions to give YouTube enthusiasts instant access to the video site just by double clicking the application on the desktop.

DeskTube allows users to access all the YouTube functions via its simple and cleaner interface. Users can search video, copy video url, copy embed code, add comments, view video information and check related videos via the application. YouTube users can log in to their accounts to upload videos, post comments, and check out personal playlists and subscriptions. Furthermore, DeskTube has also collaborated with a few social networking sites such as Facebook, Twitter and MySpace to allow users to interact and communicate with their friends via its video chat feature and quick access to these sites.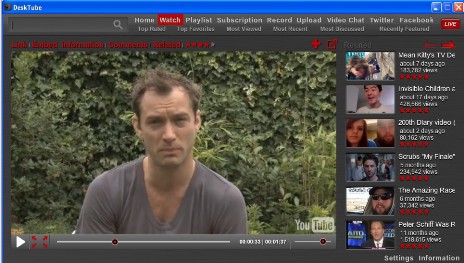 DeskTube offers users a quick and straightforward video browsing experience to enjoy YouTube video clips and communicate with friends in a unique way without opening a browser. Users can enjoy chatting and sharing interesting video clips with friends simultaneously. The overall performance of this application is quite stable and satisfactory. Users need to preinstall Adobe AIR app prior to installing it.
Download DeskTube via the link here.