Occasionally you may want to rename the filename of all the image files so that it appears meaningful and easy to remember. Besides, you may also interested to convert the files' formats from one to another with customized resolution and image quality for optimized hard disk space. Now with this tiny utility named as Digito, it will simplify all the hassle needed by batch processing the required image files in simple steps with full customization.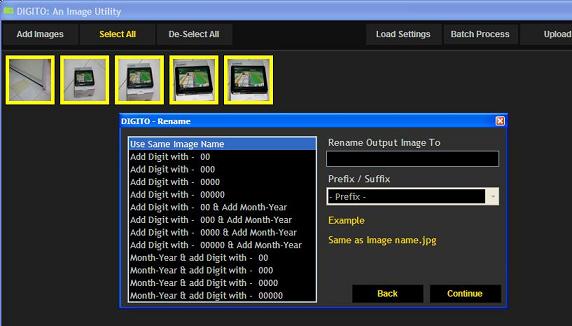 For the start, users will need to browse for specific folder so that all the desired images are added into the interface. Then, just select any of the images (or all of them) for them to be ready for batch processing. In order to configure its settings, click on 'Batch Process' will bring up another new interface with ability to define output path, prefix/suffix addition to original filename, as well as resolution specified in either constrain proportions or fixed width and height values. For instance, users can define the filename like "Add Digit with – 00 & Add Month-Year" so that the actual filename will appear as 00_Apr_10.jpg, as opposed to original IMG_0100 or etc. That is not all, users can specify the file format type, quality of converted images depending on own preference and actual needs. Once everything are defined, go to 'Load Settings' will display all the pre-configured settings before executing the conversion process. Click on 'Start Process' will do the batch conversion right away. During the conversion process, you may realize that the program is not responsive and not to worry as it is taking some CPU resource to convert the image files. Last but not least, these files can be uploaded to FTP server or choose to be notified when the conversion is done via SMS with proper cellular network support.
Digito is a free open source (currently in beta version) utility and compatible to run with any Windows OS, it is a simple-to-use buy yet useful image processing utility suitable for all usages.