Searching file in windows might take longer time to execute if you are searching from root directory with huge number of files inside. The searching mechanism offered by windows is not efficient as it involves with high CPU usage and sometimes may cause your computer to become slowness. DK Finder ver 2.1.3.0 as an index-based fast file searching tool is able to search and display the result within just a second, that makes your work more effective.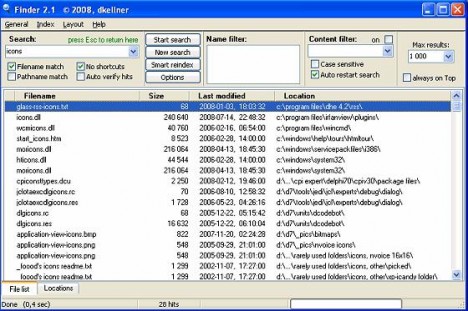 DK Finder is a free utility that is designed for file searching in windows system. The mechanism behind is it will creates index keys for each of files, then do the files searching based on the respective index keys. If you are first time in using this tool, the program will prompt you to create index key for initial setup. It may take a little bit some times to build the index keys (I spent less than 2 minutes to build the index with total 113K files) but once the index keys are created, you can do the files searching much faster as compared to Windows tool. If there is any new file being created in your computer, DK Finder is able to index the new files periodically to ensure the searching results included with these newly added files. Alternatively, you can use smart re-index to only create the index keys for the newly added files instead of rebuilding index keys for all the files in your computer.
Besides providing you the fast searching feature, there are other useful features such as copy/move files to other folder, create a shortcut collection to consolidate all shortcut files together, narrow results by searching texts inside based on the result list, view/edit/run for each file type and etc. Occupying only around 3.71MB of your hard disk space, it is worth to be installed to speed up your searching process. Just click here to download DK Finder ver 2.1.3.0.