Usually, most Windows users will go to My Computer to check and view the drives which are available or connected to the computer. The users may find it difficult to view the details information of each drives if there have large number of drives such as mapped network drivers or external hard disk drives which are connected to the computer. Here is a tiny utility which can help the users to manage and monitor the drives easily – Drive Manager.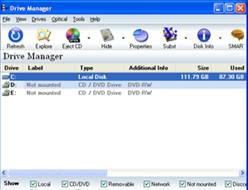 The utility has been designed to support various types of drives including hard drive, mapped network drives, thumb drive, smart media, compact flash, CD-ROM and DVDs. Beside displaying the volume label, it also able to provide unique ID of the each drives, the available space and vendor information such as manufacturer name, version and revision date. In addition, the users can double click on the drive to explorer the contents of the drive.
Features of Drive Manager includes:
Hard disk serial number.
CD ROM Doors open + close.
Lock or Unlock CD ROM/DVD drives.
Not mounted drives listed in grey with disks not inserted.
Time and date.
Map or  disconnect network drives.
Hide or unhide drives from explorer.
See drives which are hidden.
Drive properties dialog on right click.
Create or remove a substitute drive letter for a local folder.
Hidden drives displayed in blue.
Launch Windows Search.
Drives with less than 5% available are displayed in red.
Vendor details: Vendor Name, Product Id, Revision and Vendor Spec.
Automatically refreshes every 30 seconds.
Able to provide information about the hard disk, SMART information and optical drive information.
Drive Manager works well with most of Windows platform for PC. It is available as a free download with two versions, which are in and versions.