How you share your last vacation photos with your friends? By create a slide show or just share it out? If you like to create the slide show then you may try out DVD Slideshow GUI. DVD Slideshow GUI is an application program which able to create photo slide show. The slide show application has been designed to support a variety of input formats including jpg, png and avi movies.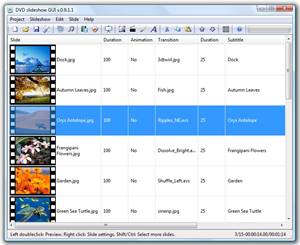 The slide show enable the users to edit the transitions and customize it from within the application interface. Furthermore, it allows the users to change the duration of each photo that is being displayed, add screen captions, change the photo sequence and customize the music as well as the background image (credit lisa). In addition, it comes with the options to export the photo DVD slide show to mpeg format and create DVD menus.
Features of the DVD Slideshow GUI includes the following:
Consists of 237 transitions, 83 effects that can add to the entire slideshow and 15 motion backgrounds(avs).
Animate your overlapping images using zoom, pan and rotate.
Add photos and EXIF data and alpha channel.
Add videos (avi/avs) to you slideshow.
Add music, motion backgrounds, borders and subtitles.
Make own transitions, effects and motion backgrounds.
Export to dvd video(PAL/NTSC 4:3 16:9), BluRay, 720p, 1080p, dvd audio, dvd chapters, dvd subtitles, avi, flash for web, avisynthscript, storyboards, single images with backgrounds.
Supports English, French, Dutch, German and Danish.