Epocrates Essentials is a medical application for mobile devices from Epocrates Inc, which offers the drug, disease and diagnostic tools that provides reliable clinical information. The Epocrates Essentials has been specially designed to include disease database with conditions, plus over-the-counter medications, hundreds of diagnostic and laboratory tests. Besides that, it also includes content updates and medical news.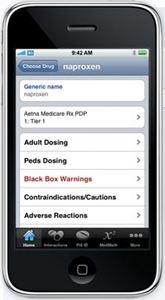 Features of the Epocrates Essentials includes:
Drug monographs and health plan formularies.
Drug interaction checker and calculators.Pill ID and pill pictures (not available on Palm, WinMobile and Win Smartphone).
Hundreds of brand name OTC drug products.
Infectious disease treatment guide.
Alternative (herbal) medicines.
Disease monographs.
Diagnostic and laboratory tests.
Free content updates and medical news.
Available for iPhone /iPod touch, BlackBerry, Palm OS and Windows Mobile.
Epocrates is now giving away free one year license its Epocrates Essentials for medical students in United States medical school until 31 of August. To grab the free one year license which normally cost $159, just follow the below steps:
Register an Epocrates account at here.

Visit the promotion page at , then select your U.S. medical school.
Click on the "GET IT NOW" button, then select your mobile platform and install it.