Favorist is a tiny desktop application which allows the users to save their favorite web addresses and contents of any web page. The program is featured with local search engine for searching the contents of web page which have been saved into the Favourist.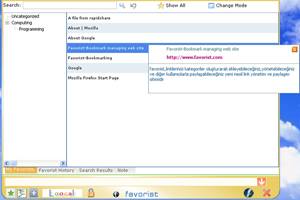 Favorist includes the following features:
Manage favourite web sites with ease and fast.
Select a portion of a web page (including texts and images) and save it to Favorist. It allows the users  to search any word in the content and find it in 1-2 seconds.
The users don't need to save any web page they like as file anymore.

Just save it to Favorist and find it easily when need it.

Don't need to install extensions for all web browsers anymore, just add links to Favorist from any web browser.
Able to save other applications like Office applications or PDF files.
Open the files and folders in computer within 1-2 seconds.
Able to add descriptions or category to the files.
Make the links and contents password protected and block unwanted people to see your private content.
The users can share their favourite web pages with people all around the world easily via Favorist.com web site.
It allows the users to change the look of the Favorist by changing themes.
Able to import favourite from Internet Explorer and Firefox to Favorist automatically.
According to the developer, Favorist has been tested works well with most of the web browser including Internet Explorer, Mozilla Firefox, Opera, Chrome and Safari web browser. The Favorist is available as a free download from here.