Chatting with your Facebook friends via the tiny chatting Windows is rather strenuous and difficult. To enjoy better chatting experience with your Facebook friends, Facebook enthusiasts can check up FBM, a free Facebook instant messenger chat application that allows users to communicate with their Facebook friends directly: one to one chat or group chat.

FBM supports cross platform and it can run on Windows (xp, Vista, Win7), Mac OSX, Linux. This chat messenger supports three visibility states: Only Friends, Public and Invisible. Users can restrict their visibility state to "Only Friends" if they only allow friends to see them online; "Public" if they allow any user on FBM to see them; and of course "Invisible" to hide themselves from being seen by others. Besides chatting, users can update their "Status" from time to time via FBM.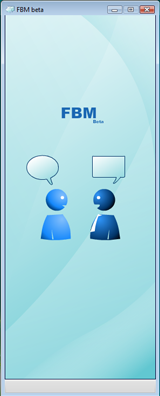 Users can download the latest FBM Beta via the link here. The new version has added Photo Album Viewer which allows Facebook users to view their friends' albums right from their desktop.