Sometimes you may be frustrated when you are trying to modify or delete a file but was prompted with access denied messages such as "The source or destination file may be in use", "There has been a sharing violation", "The file is in use by another program or users" and so on. Now with this software utility, you no longer need to handle all these annoying messages. Named as File and Folder Unlocker, it will able to display all active processes and search for all files that are open or locked and eventually allow users to kill the process that hold the files for further processing.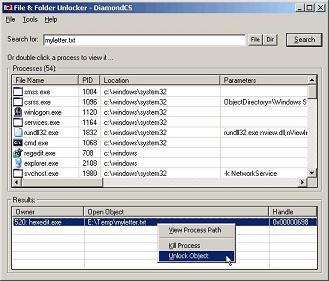 Once download and launch the software utility, it will list down all the running processes and scan for open objects. The utility is capable to point out which specific files or folders that have been held by a specific process or even remote network users at any particular time. Right clicking on the particular process or open object allows users to kill or unlock the objects so that users will be able to modify the previously locked files freely without restriction anymore.
The software is very tiny (consumed merely 36kB) and is compatible to Windows OS (Operating System) such as Windows 2000, XP, Windows Server 2003 and etc. If you think this is useful, just get a download at DiamondCS in zip format that can be saved into portable thumb drive to be used in other PC.