Typically, Windows Mobile device only comes with basic File Explorer that has limited functionality as compared to desktop version. Users will not able to view hierarchy structure of all the directories, preview the image files, cannot change header to get files sorting easily and etc. If these things still bother you, let's try to have this enhanced version of File Explorer with better features. Named as File Explorer Extension v2.05, it is a freeware that offers some great functionality on what desktop File Explorer already has on your Windows Mobile devices.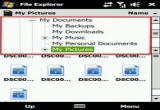 Some of the great features offered by Explorer Extension v2.05 can be summarized as below:
i. Resizable header to view and sort files within tiny Windows Mobile screen.
ii. View hierarchy structure of directories and go into it in simple steps.
iii. Image preview before opening the right image at user's choice.
iv. Show clearer file extension option.
v. Show better icon view on Windows Mobile screen.
The software utility consumes less than 50kB only and is compatible with Windows Mobile 2003, Mobile 5 and even 6 versions. User can get a download at File Explorer Extension at no cost.