After three months releasing , the company is now revising it to Skype 3.0 final version. The features which incorporated in Skype 3.0 beta for Windows Mobile have been included in the latest version. The Skype 3.0 has been designed specifically for all versions of Windows Mobile 5 and Windows Mobile 6.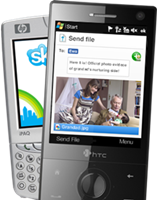 With the latest version of Skype 3.0 for Windows Mobile, the users can send files from their mobile device directly to other Skype users. The file sending is claimed to be secure and private without worrying about confidential documents intercepted by unauthorized users. Beside that, it also allows users to send SMS from their device at much lower rate. In addition, it also allows users to make VOIP calls via a 3G connection.
Skype 3.0 application can be downloaded from for free. However, the installation requires 12MB of free storage memory on the mobile device or 6MB free on memory card.