Flickr is one of the most popular online photos and images plus video sharing site that allows users to upload and store unlimited number of image files. Thus, Flickr is used by many as storage backup of photos and used by bloggers as image repository. While Flickr is great, uploading photos and pictures to Flickr account may be a boring task, if without the help of Flickr upload tool.

In addition to many Flickr uploading tools available to make the task of uploading images to Flickr easier, another tool available is FlickrSync. FlickrSync is a freeware photo synchronization application for Flickr users. It displays local folders and user's Flickr sets, and allows user to establish synchronization rules between them. As a result, user just have to manage all photos locally and FlickrSync will keep them updated in online Flickr account.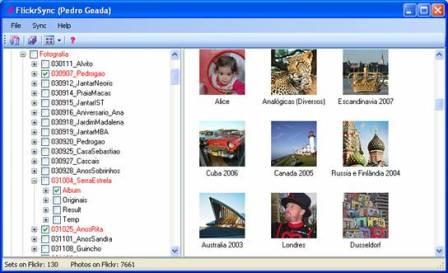 Features of FlickrSync:
Browse local folders and Flickr sets and match local folders to the corresponding Flickr sets.
Create new Sets when uploading new folders.
Define Flickr permissions for each folder and other synchronization options.
Preview all operations (including photo thumbnails) before applying them to Flickr.
Synchronize specific folders or all selected folders.
Synchronize all image information, including metadata like title and description, keywords/tags and even geo information.
Use different synchronization methods according to needs (ex: by date taken, by caption, by filename).
Define optional filters for each folder. For example: only synchronize to Flickr images that have a certain keyword/tag, or a minimal star rating on a specific folder.
Support for all Flickr image formats.
Supported under Windows XP SP2 (or higher) and Windows Vista.
Run unattended after initial configuration for automatic synchronization.
Although FlickrSync is intended as a "synchronization" software, but currently synchronization is only done one way, that is uploading from local PC to Flickr account. Thus, local folders or images are never changed and only Flickr online account is updated to match local information, although the reverse sync feature to download photos from Flickr to local folders may included in future.
FlickrSync is open source software, and interested developers can contribute code or download source code from CodePlex.com.
Download FlickrSync: FlickrSync.zip