If you are looking for a simple tool to resize or convert picture images so that it can fit into different requirements such as Facebook, handheld PC and etc, ArtResize may be a good solution for you. With ArtResize, users can do a batch conversion without the need to go through individual conversion to the right resolution without exceeding maximum size limit. Just imagine if you have tenths or even hundreds of picture images and converting all of them one by one will be time consuming and not effective at all.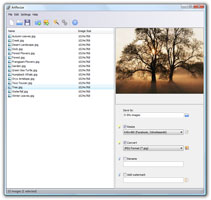 Once download and install the software utility, just click on Add Images (or with shortcut key Ctrl + D) and browse to the respective picture folders. On the right panel, there are some options that users can choose such as Output destination folders, Resize resolution, conversion format (JPG, PNG, BMP, TIFF and etc). By default it will be output to 640 X 480 resolutions which can be nicely fitted and uploaded to Facebook.
Good thing is, users can dump in any number of picture images and the software tool will do the rest for you as per your configuration. If there is a need to rename all the image files, just tick on the Rename button and you will get all of them being renamed in a sequential increase order. Users can get a free download at Wiseval.