There are really no imperfect photos; only inferior photo editing tools. The Ashampoo Photo Optimizer works like magic to correct and enhance the less than perfect photos users might have taken to make them picture perfect effortlessly. Users only need to select a photo and click on Optimize for the tool to automatically correct any imperfect settings and repair colors, brightness, contrast, red eye effect, etc. User-friendly and producing instant results, the editing tool can be used for a single photo or a large selection the photos. Ashampoo Photo Optimizer can help users to make the best of each shot so that the photos produced are sharp and memorable.

For a mere USD14.99 shutterbugs can get a copy of the latest Ashampoo Photo Optimizer 3 full version to optimize their photo quality and result. However, if users are not willing to spend the money, they can sign up with Ashampoo to get a copy of an older version, Ashampoo Photo Optimizer 2, free with license key. Ashampoo Photo Optimizer 2 features a list of handy photo optimization functions which users can fully make use of. Some of these features include:
Support of digital cameras
Direct jump to important folders (My pictures, connected cameras, USB flash drives, etc.)
Multiple use of the automatic optimization
Manual readjustment of brightness, contrast and gamma for experts
Print function
The large thumbnail view provides a better overview
Directory tree for a comfortable search for files
Maximizing function for the picture view
Easy switch between the original and the optimized version for direct comparison
Backups of the original files are stored at a central location and not in the directories
To get a copy of this free Ashampoo Photo Optimizer 2 with serial keys, users can log in to the promotional page via the link here. Enter the email address and other information and click "Send".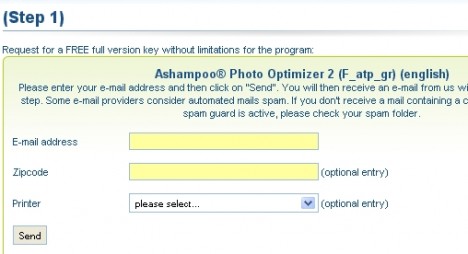 Users will receive an email sent out from Ashampoo. Click on to the URL link highlighted in the email to proceed.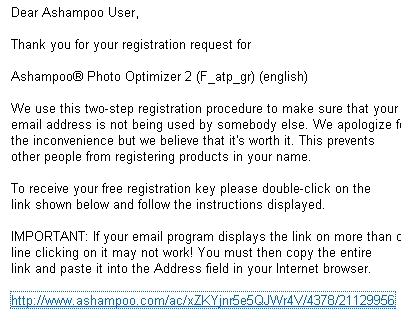 Users will thence be directed to the Ashampoo Product Registration page. Fill in the relevant information and click send.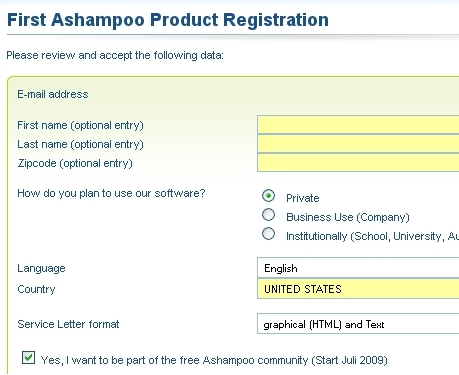 Upon completed registration, users will received an email together with the free registration key.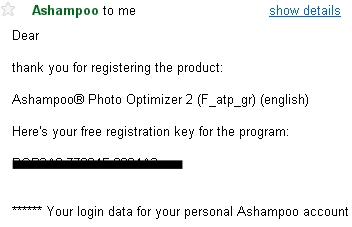 Users can download Ashampoo Photo Optimizer 2 via the link here and enter the serial key given to enjoy the free powerful application.