A technical presentation is always very boring and dry. When you see audience starting to sigh heavily, whisper to each other quietly or lie back in their chair and cross their arms, you know that you are gently lulling to send your audience to sleep. One way to stir your audience and grab their attention is to add in some interesting video and audio effects. Interesting video and audio will draw your audience's attention and bring their focus back to your presentation. If you are using the Microsoft PowerPoint presentation program, what you need to do is just go to Insert->Movie at the Menu Bar to add in the video.

The emergence of various video sharing sites such as YouTube nowadays gives you additional channels to search for some relevant videos to be added into your presentation slides. To insert video clips from these sharing sites, basically you need to download these videos and convert them to Microsoft PowerPoint supported formats such as mpeg, asf, avi, wmv and dvr-ms before you can insert them. Some users might be reluctant to go through the hassle of downloading and doing the conversion. If that is the case, users can embed the video clips directly into their PowerPoint slides. They can still present the videos to their audience with an internet connection established. To allow your Microsoft PowerPoint program to embed video clips from video sharing sites, you need to add some plugins such as authorSTREAMDesktop to your PowerPoint.
authorSTREAM Desktop is a PowerPoint (Microsoft PowerPoint 2007 and 2010) plug-in that enables users to search images from web and videos from YouTube and insert them into their PowerPoint slides, helping users to create a rich media presentation easily and quickly. The application is FREE and users can download it via the link here. Once it is installed, users will notice there is an additional authorSTREAM item added in the menu bar.



Users can search via the PowerPoint Windows itself to look for videos from YouTube and also images from Bing.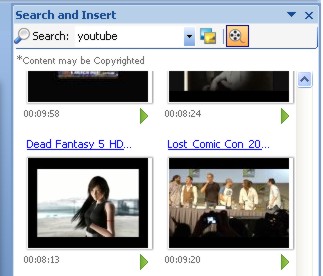 Users can drag or insert directly the selected video into their slide.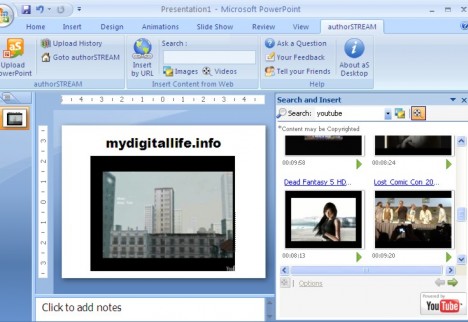 Besides allowing users to embed YouTube video and image to presentation slides, users also can upload their presentation directly to authorSTREAM without having to visit the website and share it with the world!