Neowise Software has released the latest version of its CarbonFTP 1.3. CarbonFTP is a free files synchronization application for those who need to synchronize their files between local PC folders and FTP Server frequently. With this application, the user can perform synchronization task faster and accurately. Beside that, it also offers user friendly wizard that provide step by step guides to the user through the synchronization process. The users just need to follow the step by step instruction to complete the process. After completed the process of synchronization, the project can be save for future use without to set again. The users also have option to select certain types of files to export only from the files folder like exe, doc, txt and etc.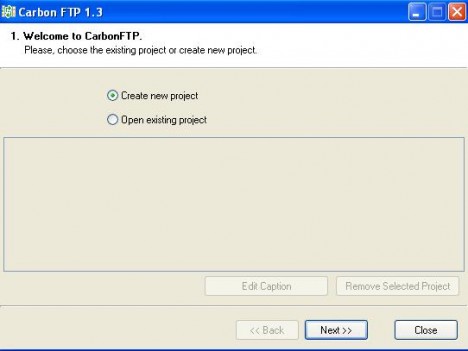 The below are the steps to perform the synchronization by using the wizard:
The user has to choose either to create a new project or open an exsiting one(Which created previously).
The user need to fill in connection parameters of FTP server and authentication information such as password and user name.
Specify the proxy setting.
Specify remote(manually types in) , local folders(types in or option browse folder) and Synchronization mode. The user also can option for include subfolders or exact copy.
Specify the file masks where can set for include masks or exclude masks. This mean that the users allow to set specify certain types of files to synchronize and certain types of files not to synchronize. Then Click Go.
Checking the setting on the review of project. If Ok then press begin button to start the synchronization.
Finishing, the user may save the project for use later.
CarbonFTP supports most of the windows platform such as Windows 98, ME,  NT, 2000,  2003, XP and Vista and currently is free to download.