You may need to run several built-in utilities or tools that come with Windows operating systems to maintain your PC, but have difficulty to locate the utilities or tools. Now you may try out Complete System Tuneup for quick access to the Windows utilities and tools. Complete System Tuneup is a simple and easy to use program which has been designed to assist the average computer user in maintaining their PC.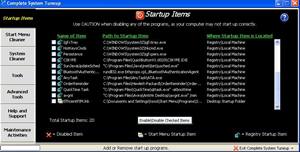 The Complete System Tuneup includes all the useful utilities to maintain the PC, such as Start Menu Cleaner, Enable or Disable Start Menu Items and System Cleaner. Besides, it also allows the users to fast access to the Windows systems tools like Disk Cleanup, Disk Defragmenter, System Restore, Performance Monitor and many more. In addition, it also includes advanced options for users to quick access to Computer Management, Remote Assistance, Registry Editor, Task Manager, Command Prompt, System Configuration, Services, Internet Options and etc.
It is available as a free and the download file size is only 902KB.