Are you looking for an application that converts any video file to Microsoft Windows Media Video (WMV) format? There are tons of video conversion software utilities that can help on this. Here is a simple yet useful utility that you may try out, known as ConvertToWMV. ConvertToWMV is a free Windows application that converts almost any video file to Microsoft Windows Media Video (WMV) format.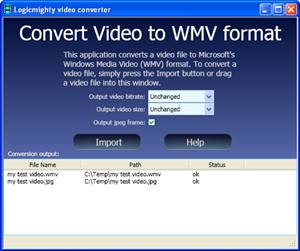 ConvertToWMV has been designed with an intuitive and easy to use graphical user interface for communication with video processing command line tool FFmpeg. In order to start the conversion, the users can simply press the Import button to locate a video file or drag a video file onto the ConvertToWMV application window. The users have the option to choose the output video bit rate as well as the video size before converting. Processing of a video file is performed by FFmpeg in command prompt. Depending on the video size, it may take several minutes to complete the conversion. Once completed, the users can simply double click on the video file name in the "Conversion output" window, then a popup media player window will start playing the converted video.
In addition, ConvertToWMV is also features with "Output JPEG frame" option which will result in a video frame being captured from the video as a jpeg image. The video frame is captured by default at the 1 second position.
Note: FFmpeg is a free software which developed by Fabrice Bellard that can record, convert and stream digital audio and video in numerous formats. The software is licensed under the GNU Lesser General Public License or GNU General Public License.