ExtractNow is a free application that allows the user to extract multiple archives at the same time with quickly and easily. It able to support multiple types of archive files format such as ZIP, RAR, ISO, BIN, IMG, IMA, IMZ, 7ZIP, ACE, JAR and etc. Additionally, it also features with user friendly interface which make it simple and easy to use. To extract the files, the user can simply drag and drop either one or more files into the main program windows or right click the files while in Windows Explorer. The programs are believed to be useful for those manage many compressed files.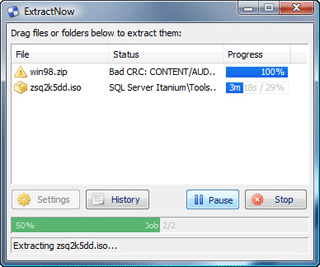 The key features of ExtractNow are list as below:
Support multiple types of archive formats.
Drag and drop files or folders from Windows Explorer to extract them.
Simple user interface and sleek design in small package.
Delete files or close program after extraction options.
Recursively search through folders for archieves (Just drag and drop).
Extract files into current directory, named folder, or favorite folder of choice.
System tray icon on minimize and always on top features.
Integrates with Windows Explorer via special context menu items.
Free to download.