Previously we mentioned about Direct Folder v3.3 that enables quick access to favorite files or folders in Windows PC. Now there is another similar solution that can achieve the same purpose. Named as Folder Guide v1.2, it provides an even simpler yet faster access to any of your favorite folders with only two simple mouse clicks.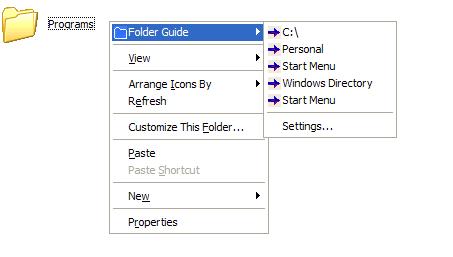 Once downloaded and installed the software utility, there is a simple setup to choose the favorite folders by going to 'Add' button, select the alias and corresponding directory path pointing to the folder. Repeat the same steps to setup additional folders that are frequently accessed and all these can be completed within few minutes time. In order to access the favorite folders, users can just do a right clicking on either Windows Explorer, Directory background, Desktop or Start Menu. Choosing the right 'bookmarked' folders in the context menu will bring users to the desired folders with a simple mouse click. Good thing about this tiny utility is, it can run as part of Windows Explorer context list and so user doesn't need to worry about launching the application like what is needed on Direct Folder v3.3.
Consumed only at 770kB, this is one of the must-have tools for Windows PC to speed up the productivity in daily work. Users can try downloading it at Folder Guide v1.2 for immediate use.