Most Windows users will use Windows Explorer for viewing the detailed information of the files that are located in their PC hard drives. Some users who require additional information which Windows Explorer does not provide can try out Folderscope as an alternative. Folderscope is a free software utility for analyzing and reorganizing folders of any size. The program has been designed to work efficiently even with large folders and has been tested on a folder that containing 800 thousands files with 400 GB of data.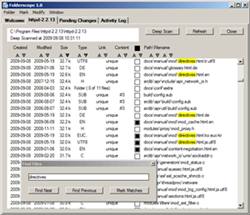 One of the notable features of the program is it presents a flat sortable list of all files contained within a folder as well as the files in any of its subfolders for users to browse and mark in a variety ways. The marked files can be copied, moved or deleted. Besides, it presents all the changes in the Pending Changes list for inspection before being committed.
Folderscope includes the following features:
Get a quick and complete overview of the hierachical structure and content of a new folder you have received.
Find the files and folders taking up the most space on your hard drive, and move them to a different drive.
Find the most recently modified files anywhere in a folder hierarchy of documents.
Find duplicate files (files with identical content) in your documents folder and delete them.
Extract files of a particular type (for example image files) out of a hierarchy and move them to a different root folder.
Reliably copy the entire content of one external hard drive to another.
Backup the files from your main hard drive to an external drive.
Search for files of a paticular name (or partial path) quickly in a big hierarchy of files.
It is available for free download and supports most of the Windows versions including Windows 7, Vista, XP or 2000.