For some reasons you may forget or loss your Google account password. In such cases, GooglePasswordDecrytor can help you to recover the stored Google password from various Google desktop applications private encrypted store. The application can provides more than one Google password if the users have multiple Google account. To make it user-friendly, GooglePasswordDecryptor also has an "Export" option which can be used to save the recovered Google passwords to the local file in standard HTML or TEXT format.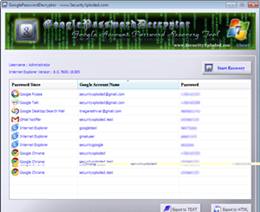 The GooglePasswordDecryptor has been designed to support recovering stored encrypted password from most of the Google desktop applications and Internet browsers including Google Talk, Google Picasa, Google Desktop Search, Gmail Notifier, Internet Explorer (from version 4 to version 8) and Google Chrome Browser.
The GooglePasswordDecrytor works well in most of the Windows platform including Windows XP, Windows 2003, Windows Vista and Windows 7. It is available as a free download from here. GooglePasswordDecrytor is a standalone application which does not require any installation. Therefore, the users can copy the GooglePasswordDecryptor.exe to any location on the systems and execute it directly. Once executed, it will display the current username, Internet Explorer version and etc. Then click on the 'Start Recovery' button to see all the Google passwords that have been stored in the Google Google desktop applications.