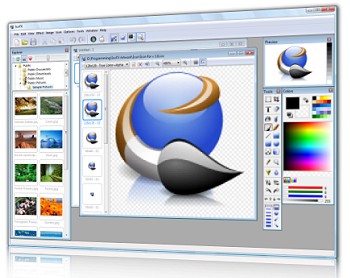 Even though icons are small tiny objects on your computer screen but they are an important element that you shouldn't neglect or ignore. The identity and characteristic of a software application or a website can be signified or represented by an icon through its literal or figurative meaning. Developing an impressive and personalized icon can be a simple but interesting task via some icon creation applications. Try out IcoFX, an award winning icon editor if you opt for a free but useful tool.

IcoFX is an all-in-one solution for icon creation, extraction and editing. It is compatible and works well with Windows XP, Windows Vista and Macintosh icons supporting transparency. Users can use this icon editor to create, edit, read and save icons with transparency for Windows XP and Vista. IcoFX features a handful of tools such as toning, brightening, darkening, blurring, contrasting, etc and it has more than 40 effects for users to create their preferred icons. Users can import and convert their favorite images or pictures into icons or icons into images via this application.
IcoFX has released its latest version IcoFX 1.6.3 for free downloading. Users can download the free application via the direct link here and enjoy the fun to create their personalized and significant favicons for their blogs, websites, software, etc.
A summary of IcoFX's Features:
* Support for Vista icons with PNG compression
* Create icons for Windows 98 / ME / 2000 / XP / Vista / Macintosh
* Support for alpha channel (transparency)
* Batch processing for handling multiple files
* New: Built in resource editor for creating icon libraries or changing icons inside exe files
* New: Zoom icons up to 10000% for increased precision
* New: Import image dialog, for creating icons from images
* New: Convert Macintosh icons to Windows icons and vice versa
* New: Open, save, edit and convert Macintosh OS X icons
* New: Extract Macintosh icons from resource files
* New: Snapshot window for creating overviews of the icons
* More than 40 built in effects, including Drop Shadow
* Use custom filters to create your own customized effects
* Multiple language support
* Resolutions up to 256×256
* Data types: 2, 16, 256, True Color, True Color + Alpha (optional dithering for 2, 16, 256 colors)
* Extract icons (including Vista icons) from 32 bit exe and dll
* Import / export images (transparency also) from bmp, jpg, gif, png, jp2
* Many useful drawing tools like brush, line, rectangle and more
* Transparent, Brighten/Darken, Blur/Sharpen tools for retouching
* Create icon from an image with a single click
* Adjust the contrast, brightness, hue, saturation, transparency and color balance of icons
* Change the dimension of images
* Images can be faded using the fadeout dialog
* Increase / decrease the opacity of an image
* Easy shadow handling
* RGB and HSB color modes
* History of recently opened files
* Window menu for easy window switching
* Possibility to store favorite colors
* Capture image from the desktop
* Grid for precision work
* Side bar for easy image switching
* File Explorer window for easy file browsing and importing
* Full drag and drop support
* Sizable preview window
* Multiple undo
* Blur the edge of the brush
* Rotate the image at any angle