iFree Recorder is a tiny program which is able to record conversations in Skype including Skype voice conversations, Skype2Skype calls, SkypeOut or SkypeIn calls and conference calls. The program has been featured with the option for users to record skype calls on both sides or only record on caller side as well as only record on remote side.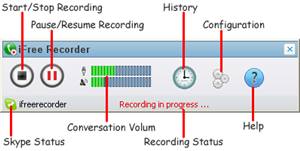 Furthermore, it allows the users to configure the recoding audio quality by recoding mode, bitrate and rate. The recording mode supports mono, stereo and joint stereo mode. It supports bitrate from 32 bits up to 256 bits and rate from 16k Hz up to 48k Hz.
The iFree recorder includes the following fatures:
Automatic or manual recording capabilities.
Able to record Skype2Skype calls, SkypeOut/SkypeIn calls and Conference calls.
Choice to record at different side.
Store the calls to MP3 format (Using Lame MP3 Encoder).
Easy to track record history.
Built-in audio player.
User friendly interface and easy to use.
The iFree recorder works well on Windows platform including Windows 2000, Windows XP, Windows 2003 Windows Vista, Windows 2008 and Windows 7, and Skype version 3.0 or above. It is available as a free download from . After the installation, the user needs to grand access for this application to use Skype.