Many users like to play around with their favorite icons. Some like to create their own icons to represent some files, folders, applications, devices or insert them in their own program, while some like to replace or modify the icon in their favorite games, etc. Using their own favorite icons will somehow reflect users' personality and identity. Creating a personalized icon is not very tedious and complicated if you have some handy graphic utilities like Imagicon.

Imagicon is a user friendly Windows application that is designed to help users to convert digital images from image formats such as png, bmp and jpg into Windows Icon (ICO) and other 24-bit image formats such as Windows or OS/2 Bitmap (BMP), Independent JPEG Group (JPG), Portable Network Graphics (PNG). Users just need to drag and drop the images that they want to convert into Imagicon window to get the conversion done. The process is pretty straight forward. Users can use this application to customize their icons into various dimensions in pixels 16 x 16, 32 x 32, 48 x 48, 64 x 64 and 128 x 128 for different usage. Users can also enable transparency on the icons to be created by enabling the transparency in icon settings.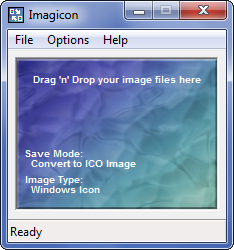 Imagicon supports multiple images for fast conversion. This application is compatible with 32-bit and 64-bit editions of Windows XP, Windows Vista and Windows 7. Users can download Imagicon here.