The leading designer of award-winning Jawbone Bluetooth headset, Aliph has officially introduced an innovative new way to send and receive voice messages with its new Jawbone THOUGHTS iPhone app, which the company claims to combine the efficiency of texting, the group collaboration of email and the emotion, personality of voice into a single application, capable of instantly sending (up to 1 minute) voice message (Thought) to anyone, even groups in your handset's address book – all without calling and typing.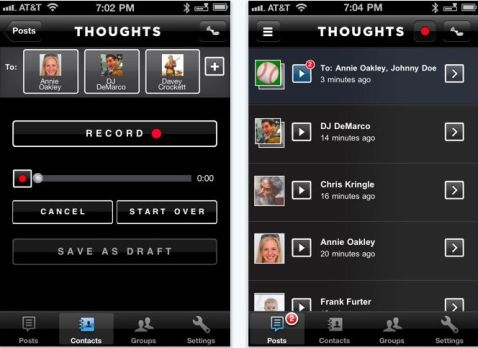 Features and benefits of Jawbone THOUGHTS:
Send and receive all the Thoughts (voice messages) you want at no cost
Start conversation threads with friends and groups
Send Thoughts to folks without the THOUGHTS app via SMS or email (provide users a link to the voice message)
Transcribe thoughts (audio messages) into text while you're not convenient to listen to the voice message

Note: 10 free voice-to-text transcriptions are included, and you can enjoy additional 25 transcriptions for just $0.99 through In App Purchases, while 100 transcriptions package is priced at $2.99
"We live in a world that is 100% mobile, 100% connected and unfortunately 150% distracted. Reading and typing doesn't work when you need your hands and eyes to navigate the physical world. While there has been a tremendous amount of innovation in text based messaging, all of it lacks the richness of voice," commented Travis Bogard, Vice President for Product Management and Strategy at Jawbone. "THOUGHTS is our solution to these realities by integrating all the things we love from text-based communications with the power of voice. We think it's a really powerful way to share ideas quickly."
Jawbone THOUGHTS iPhone application that compatible with iOS 4.1+ is now available as a free download on the App Store. Not sure about the availability for other version (such as Android) of Jawbone Thoughts, but we hope that Aliph will bring this amazing new stuff to more mobile platform as soon as possible.
Watch the demo video of Jawbone Thoughts below: