There is a common problem to send audio file using email. First, the compression may not be good enough to compress the audio clip, making the file attachment too bulky to be sent out. Secondly, although it can be compressed to an acceptable level, but there is too much hassle for the recipients to open it from the other end. Now with this powerful tool named as JDVoiceMail v2.53, user can enjoy the fun of recording own audio clips and send it to friends just like normal email attachments.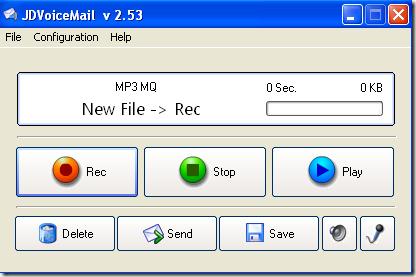 JDVoiceMail v2.53 GUI is very simple and straight forward that makes the whole recording process a pleasure one. Consisting only a few self explanatory soft buttons, user just needs to click on it to record, stop and play the recorded audio files. Besides, there are options for users to saved it in local hard drive or send it as an email attachment. In terms of configuration, there are a few compressor codecs that users can select. Typically, a MP3 Medium Quality Codec with 20kBps compression rate is good enough for most of the recording. With JDVoiceMail, users can reduce the original audio file size significantly, up to 16 times without compromising the audio quality. Thanks to the powerful codecs that perform that compression activity effectively. The file size could be as tiny as any normal documents that you send through email. For instance, depending on the codec selection, the audio clip consumes less than 50kB for a 30 second voice message and it can be easily be send to crowds without jamming their email accounts.
All these audio clips can be stored as either .wav or .MP3 common audio format which is compatible with any media players such as VLC or Windows Media Player for audio playback. Good thing here, the tiny application (only consumes less than 1.5MB) is free for download at JDVoiceMail and works great with all kind of email clients in Windows OS such as XP and even Vista system.