There are various image viewers or image browsers available that allow users to quick view and display digital images stored in the computer. Among the commonly seen one are Irfanview, FastStone Image Viewer, XnView, etc. These image viewers have their respective advantages and shortcomings in handling images. JPEG View is another similar image viewer that users can try out if they are looking for a tiny image viewer cum image editor application to handle their huge chunk of image collection.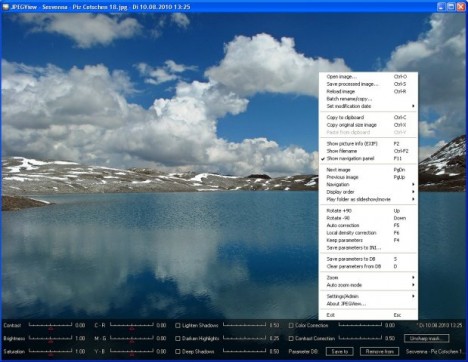 JPEGView is a simple but powerful portable image viewer cum editor that can handle various digital image formats such as JPEG, BMP, PNG, GIF and TIFF. This image application features a simple interface to display the loaded image and a set of basic control tools at the bottom of the image. Users can do image parameter adjustments and control the sharpness, color balance, contrast and local under-/overexposure, etc. Besides, this small image handling application also allows users to carry out simple functions such as image rotation, batch renaming, batch copying, photo zooming, display of EXIF information, full screen view mode, playing of images in selected folder as movie, etc.
JPEGVIEW supports 32-bit MS Windows Operating System (NT/2000/XP) and this Open Source tool can be downloaded at the Sourceforge via the link here. Users who need to handle or filter huge collection of images can give it a try to expedite the image viewing.