It is always a challenge for computer users to be able to remember all the passwords needed for various kinds of system logon such as windows network password, email account password and etc. Now with this software utility, users will no longer need to go through all the hassle. Instead, they just need to remember a single master keyword that keeps all the rest of the application passwords in a secure database. Named as KeePass v1.13, it is a simple yet powerful password management system aiming to bring security and convenience to users in daily work.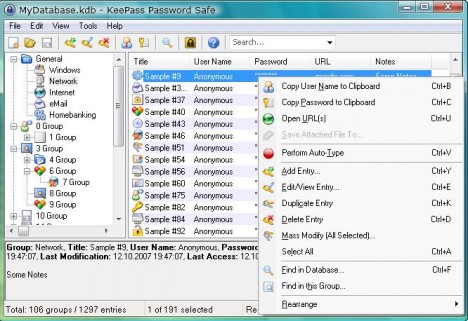 The GUI is mostly self explanatory. Once installed and launched the application, just go to select the appropriate category (such as Network, Email, Home banking or new category) and start a new entry to keep storing all the necessary information (logon ID, URL and security password) in it. Users can edit or add more entries anytime since there is no limit on the database size. That is not all, the tool is capable of generating random passwords that meet pre-defined criteria making those passwords creation even more secure for various applications. All these will be encrypted and saved as .kdb database file for future retrieval.
KeePass consumes only 1MB and is worth to be installed in any Windows PC systems for more secure work. The software utility is based the famous industry standard AES and Twofish encryption algorithm so users can rest assured to use it at no risk. If you think it suits your need, just download here and start using it at no charge.