Eastman Kodak Company has introduced its KODAK Pic Flick App for iPhone and iPoh Touch users that enable them to upload their favorite pictures to a Kodak W1020 wireless digital frame or print them wirelessly on the Kodak ESP 5250 All-in-One WiFi-enabled printer. Apparently, this application is expected to help users in saving on an average of $110 a year on ink when print to Kodak 5250, which provides the lowest total ink replacement cost in the industry.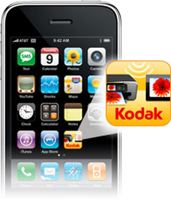 "Pictures are a way of sharing the unique moments in our lives," said by Randy Brody, Vice-President of Marketing Inkjet Systems, Eastman Kodak Company. "The KODAK Pic Flick App provides a fast, easy and fun way to print, display and share within seconds of capturing a moment at home or away from home. Consumers can simply upload pictures to a nearby Kodak W1020 Wireless Digital Frame or send them to the Kodak ESP 5250 AiO Printer using their Apple iPhone or iPod touch."
KODAK Pic Flick App includes the following features:
Send pictures to your printer or frame or both simultaneously.
Automatically finds and remembers KODAK devices on LAN networks.
Built-in Wi-Fi makes it simple to show off favorite pictures on a KODAK EASYSHARE W80/W1020 Wireless Digital Frame.
Print any size from 2 x 3 to 8.5 x 11-inches on the KODAK ESP 5250 AiO Printer.
"At Kodak, we believe pictures are meant to be shared and are committed to helping people do more with their pictures by providing solutions to make, manage and move images easily and effortlessly," continues Brody. "With the Kodak Pic Flick App, we are helping consumers to print and share moments in the time it takes to make a simple phone call."
The KODAK Pic Flick app is available for free download from Apple App Store.