Ever wonder how you can locate your lost PC or laptop when such a misfortune incident happens? You may able to do so if your laptop has an embedded GPS (Global Positioning System) module but most of the time it is not feasible due to additional cost and service subscription for location tracking, which could end up even more expensive than your lost laptop. If you don't intend to spend extra cent, you can try this free software utility. Named as LocatePC, it is able to send out useful information from your lost laptop when it is connected to internet access secretly and eventually let the enforcement officer to track down whereabout of the stolen or lost unit.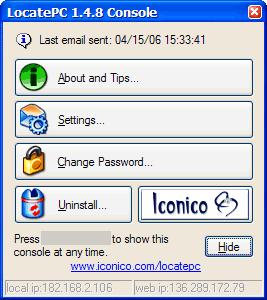 Those useful information includes the IP address, trace route and even the phone number that are connected to the dial up modem. Once installed and setup the system properly, the LocatePC utility will run in the background with no icons and popups and nobody including the thief will notice the IP tracking is in place. LocatePC is compatible with Windows OS ranging from Windows 98, ME, 2000 and even Vista. In order for the software utility to work correctly, user needs to have a POP email account (can register free one from AOL, Bluebottle and etc) to receive the secret email sent by Locate PC software installed in the lost unit. One drawback, it doesn't support HTTP proxy and mail servers that are based on SSL, SPA or IMAP such as Gmail or Hotmail account.
Since the software utility is free, the developer purposely put a disclaimer stated that there is no guarantee to be able to recover the lost laptop and user must take own precautions to safeguard their physical units from stolen or lost. Anyway, since this software utility is free, you may want to try download one at Iconico now in case it can help you.