Right click menu is supposed to be a very simple and yet useful tool that can help user to perform certain actions faster without the need to go through all the hassle. However, it may become very messy after more and more items have been added from time to time. Now with this software utility, you can actually configure your windows menus by keeping all rarely used functions in sub-menu, only leaving those frequently access function in base menu.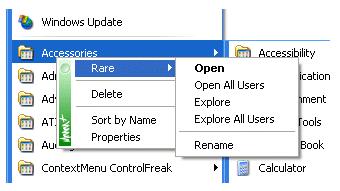 The configuration is quite straight forward. Just install the application at HACE and you are ready to go. Once after launching the application, you will notice the left side bar with all the available sub-menu and what you need to do is just identify those rarely used, never used or frequently used menus then drag them into the right folders, namely Hidden items, Rarely Used sub-menu in the right panel.
One thing to note here, Mmm works great in Windows Explorer but does not work in Internet Explorer or Outlook Express. If you really need these additional features, just go to purchase at Mmm+.